Alexandra Strick – biography
Alexandra Strick is a consultant in books and disability issues, and is passionate about promoting all forms of inclusion and diversity.
Alexandra first started working with children/young people whilst at university, spending holidays working as a play worker and then teaching English abroad for a year before completing her degree in English and French.
Alex then worked for a national charity (St.John Ambulance) for over five years, managing their network of local clubs for 6 to 10 year olds (with a membership of around 25,000 children). This involved developing national resources and events for children and designing and delivering a UK-wide training programme for youth workers, covering issues such as child protection.
She then moved to BookTrust, the charity for books and reading. There she managed the Children's Literature department (for example, coordinating National Children's Book Week and developing publications for parents and professionals). She was integral in securing funding from Sainsbury's and developing the fledgling 'Bookstart' scheme (then a small pilot project involving 300 babies) into a nationwide programme. She managed a large team of national and regional staff and a £3 million/year budget. She was promoted to Deputy Executive Director of Booktrust.
Alex then moved from BookTrust to work on projects involving and empowering disabled children and young people. With Lottery funding (and based at a national disability charity Whizz-Kidz), she worked with many young disabled people across the UK, helping them to set up and deliver projects which would improve access and inclusion and challenge attitudes. Alongside this role, Alex also started to work as a freelance consultant within the children's book world.
It is in this role (which she has held for well over ten years) that she has been able to bring together her passion for children's literature with her expertise and interest in access and inclusion issues.
This includes working as a consultant to BookTrust, with whom she has developed a web resource on disability in books (www.Bookmark.org.uk), bookgifting programmes for blind children (Booktouch) and deaf children (Bookshine) and a range of projects and seminars.
She was on the steering group for the UK's 'In the Picture' project (run by the disability charity Scope) which aimed to increase representation of disabled children in picture books. She was also commissioned by them to develop a short film about disabled children's views.
Working closely with writers, publishers and illustrators, and liaising with many disability organisations, she is a key campaigner for the inclusion of disabled children in all aspects of UK children's books. She works to deliver innovative projects, seminars and events aimed at highlighting the importance of improving positive images and access to books.
She is also co-founder and manager of Outside In Word (the UK organisation dedicated to books from around the world) and Inclusive Minds (the collective for all those with an interest in diversity and children's literature).
She co-wrote the picture book Max the Champion with Sean Stockdale (illustrated by Ros Asquith and published by Frances Lincoln). This aimed to include aspects of disability never before featured in books, subtly and positively. It contains over 40 tiny visual references to disability, without any mention in the text. Plans are currently under way for Max 2 and other exciting and inclusive books.
She also trained in photography, but this is currently taking a backseat!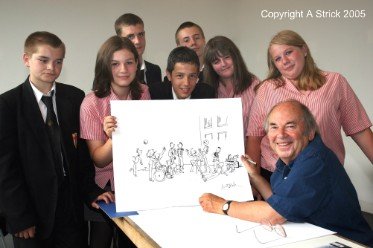 Quentin Blake and young people working with Alex, 2005
See 'Work to date' section for examples of
recent testimonials