Articles and Further Reading
BookTrust's Bookmark site features news, reviews and blogs on all aspects of children's books and disability.
My report on the Quentin Blake Award project, which I ran for Booktrust and the Roald Dahl Foundation, and which aimed to explore the subject of disability and books through a series of workshops run by writers and illustrators including Pippa Goodhart, Jane Ray and Quentin Blake.


My article written for SEN MAGAZINE, SEPTEMBER 2011:
What's the story?
Alexandra Strick looks at the depiction of disability in children's literature and discovers that we still have a long way to go.
When it comes to diversity and equality, children's literature has undergone considerable change over the past thirty years.
While there remains a major gender imbalance, with significantly more central male characters than female, the portrayal of gender roles in the books we give our children has undoubtedly shifted significantly since the days of Peter and Jane. Similarly, there have been great advances in terms of the representation of people from different ethnic backgrounds and the depiction of the "typical" family has also transformed beyond recognition.
So why is it that disability is still so appallingly underrepresented? As a judge on the nasen Inclusive Children's Book Award, I know from first-hand experience that the number of new books featuring disabled characters is not just low, but shamefully low.
Despite recent awareness-raising activity in this area (such as Scope's In the Picture project), the number of entries for the award remains stubbornly consistent at around twenty a year. Whilst twenty is of course better than zero, it is still pitifully low, especially when one considers that many thousand new children's books are published each year, and given the increasing number of disabled children in the world. According to recent statistics, the number of disabled people in the world is around the one billion mark – 15 per cent of the world's population.
I first became really aware of this imbalance back in the early nineties when I remember noting the absence of disabled characters in the many books I was sent for review. I was delighted to find occasional gems like Susan Laughs by Jeanne Willis and Michael Foreman's Seal Surfer. Both show disabled children in positive and active pursuits, with no mention of disability in the text. Mama Zooms by Jayne Cohen Fletcher depicts a wheelchair-using mother taking her child out for a ride. However, aside from a few treasures like these, I was disappointed to find that after several years of hunting, my collection was still pretty small.
What's more, not all books featuring disability do so in a wholly positive way. Historically, disability has often played a rather negative role. Traditionally, disabled characters were often villains, such as Captain Hook in Peter Pan, or figures to be feared and ostracised from society like the Hunchback of Notre Dame or the Elephant Man. Sometimes, disability would be seen as a punishment (like Katy's accident in What Katy Did) or disabled characters might be objects of pity (such as Tiny Tim in A Christmas Carol).
More recently, disability was depicted as a challenge or obstacle to be overcome. There might be a "wheelchair-bound" child who couldn't play football with the rest of his friends but was eventually given an honorary role as the team mascot – an inadequate "solution" to a difficult "problem". Then, of course, there were books teaching us about disability, with rather uninspiring titles like What is a Wheelchair User? or Henry Has Hearing Aids. While these are valid in their own way, they also in some ways help to highlight the differences rather than the similarities.
Even today, disability is still too often associated with stereotyped extremes. A book may focus on what a character manages to achieve "despite" being disabled, or the disabled person may have some exceptional quality or power, as if to "compensate" for their difficulties. Or the book may take a medical model approach, in which the prime focus is trying to help someone who is "confined" to a wheelchair to walk again. Books, along with cartoons and film, are also often guilty of using disability and someone's physical traits as shorthand to describe their personality. Someone wearing thick glasses is bookish, while someone who is ugly or disfigured is evil and twisted.
Really good inclusive children's books show that disabled people are just like anyone else. The most interesting thing about them will be their personalities and the adventures they have, not the fact that they use a wheelchair or a hearing aid.


Thankfully, the In the Picture project left us a powerful legacy in terms of heightened interest and a wealth of valuable resources. Together with Booktrust, I am also continuing to build on the work we started six years ago with the Quentin Blake Award project to consult and involve disabled children. We have run regular seminars at the London Book Fair (called Equal Measures) and have a web resource on disability and books, entitled Bookmark. There is now all sorts of material available online to help writers and illustrators.
So what exactly is it that we want to see? For starters, the casual inclusion of disabled characters in stories and pictures. However, we also need to see real diversity, not just tokenistic wheelchairs popped in as an afterthought. We need real, fully dimensional characters. We need disabled protagonists as well as disabled people appearing in the landscape with no mention of the fact of their disability. We need wheelchairs which are not just push me pull me numbers, but also powered chairs and sports chairs. We need other forms of mobility equipment. We also need less obvious forms of disability – visual impairment, complex needs, restricted growth, birthmarks, learning difficulties; the list is seemingly endless.
The best publishers of children's books take a naturally inclusive approach. In the most successful books, in addition to wheelchairs and hearing aids, we see supported seats, hair loss, tripods, asthma inhalers and even eye patches.
Books need to include disabled adults too. A fine example of this is in It's Raining! It's Pouring! by Polly Peters and Jess Stockham. It's a picture book about three children enjoying imaginative play, while in the background a parent, who happens to use crutches, watches on. Occasionally, other environmental clues are visible, such as grab bars and a wheelchair.
It is important to note that what makes inclusive books good is that they are primarily just good books – the positive images are the icing on the cake.
As far as books for older readers go, particularly worth a mention are Holes by Louis Sachar, in which the narrator has a thoroughly likeable female friend who has cerebral palsy and Accidents of Nature by Harriet McBryde, a really thought-provoking teenage read which will quite possibly change the way you think about disability forever.
There are eight million disabled people in this country. Yet the children's book landscape still looks remarkably, and inexcusably, skewed. However, with an increasing number of committed writers, illustrators and publishers, I hope we can now finally start to bring about real change.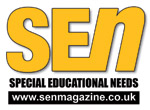 I also write a personal blog here on this site.